A lake swim with convenient almost-clear water, an extended hilly bike ride, and a precarious run course were the contents of this past weekend's sprint triathlon in Lebanon, NJ.  This was the fourth annual Buckman Triathlon directed by Green Brook Racing, and my fifth and unexpectedly final race of the 2013 season.  Read on to find out more.
Pre-Race
The night before the race, I had a decent amount of pasta with some beet salad for dinner, similar to my last race.  I put everything in the truck the night before since I'd have to be going to this one alone.  Just as I was getting ready to go to bed, I was interrupted by a brief fire alarm call, so I got to bed a bit late.  This led to getting up in the morning a bit later than I hoped, but it wasn't all that bad.  When I got to the race site, we had only about an hour to pick up our race packets (since there was no pre-race packet pickup), take care of bodymarking, and set up our transition area.  There was a good 10 minute wait just to get the packets.  After that I rushed to the transition area and got everything set up as fast as possible because there were no portable restrooms.  Like I expected, there was a line for the park restrooms.  After I took care of that, I talked to Darren, my tri club president, before the race.  I managed to get my wetsuit on just in time to hear most of the pre-race meeting, and then did a practice swim for about 100m before lining up.
The Swim (.25mi/400m)
Swim Time: 00:08:38
The water temperature was a comfortable 74 degrees, so it was another wetsuit legal race.  I definitely took advantage of that.  It was a shorter distance than usual in an out-and-back format.  The water was so clear that you could see the floor of the lake near the beach and you could see the feet and bodies of swimmers ahead and to the sides of you.  We lined up along the water's edge to start.  There were two waves a couple minutes apart – one for the men and one for the women.  I started in the back of my wave and a bit on the outside of the buoys.  I paid very close attention to my form and technique especially for the first 150m since that would be the fastest part for me.  For most of the swim I did very little to no kicking to preserve my legs and let my arms do most of the work.  I was doing very well with my body roll and high elbow during the strokes.  Nearing the halfway point, I started to move inwards and it got a bit packed, so I stayed a few yards off the buoy to give people space.  After that, I got caught between people a lot and I did a lot of passing to get out of trouble.  There was some elbowing here and there and at about 250m I got sandwiched between two people.  At first I wondered why I wasn't panicking, but I thought to myself that I felt like I was actually racing against other people for once.  I had a good amount of confidence in that moment and I was able to speed up to get out of that sandwich.  I finished this swim so fast that Darren didn't even have time to get a picture of me coming out of the water.  Neither he nor I expected to finish the swim that fast.  It was an awesome feeling.  The timing mat was near transition area so it added 10 or so seconds but that's OK.  All season I've been amazed at how some people finish 500m in 7 to 8 minutes.  I finally did it myself.
What I learned from this:  I probably could have started the swim up front and avoided getting into those tight situations.  I knew I was a relatively fast swimmer (for someone who never swam competitively) from my training sessions and I just never applied my speed in a race until now, but being fast among people who aren't too fast means you're going to run into them at some point.
T1
T1 Time: 00:02:41
This was the transition from hell.  I was able to get my wetsuit's arms off but forgot to grasp my swim gear early to stow in the arm.  Then I ended up putting my watch on backwards and had to fix it.  I dropped it while attempting that.  Even worse, the wetsuit got stuck on my timing chip band somehow and I had trouble getting it uncaught.  I wish they made the plastic bits of the timing chips more low profile.  Almost forgot to put on my helmet after the wetsuit fell off the rack a couple times too.  This was a terrible transition and I could have done it faster if all these things didn't go wrong.  I guess it happens sometimes.
What I learned from this:  I could have left watch band on the last strap notch so I didn't have to redo the strap in the first place.  I need to remember to talk myself through the steps of the Transition.  It's hard to think coming straight out of the water.
The Bike (17 miles)
Bike Time: 1:00:34
The bike was claimed to be "rolling."  That was a little bit of an understatement.  There were several good climbs, especially the very last hill which was a low gear grinder.  It's these kinds of situations where I wish I had a lighter bike with some better gear choices on the drivetrain.  It was so bad that there was one person walking it as I was going by.  In addition to there being a lot of hills, this bike section was longer than the rest of the races I have done this year.   Those factors made this a real leg burner.  The best parts, of course, were the downhill sections.  There was one good 32mph downhill that went into a turn and continued for a short distance.  It flattened out a bit, and then went right uphill again which kind of ruined the moment.  It was definitely an interesting bike course, especially the two suicidal deer that nearly T-boned the guy 6 bike lengths ahead of me on a slight downhill.  That was very scary.  Coming towards the end, you got mixed in with some of the runners and had to be very careful as you approached T2.
It was a pretty cold bike ride especially with the wind whipping your face at 30 miles per hour when it was possible to reach that.  According to my Garmin Connect workout for this leg, it was 50 degrees.  It was impossible to break a sweat, so I didn't drink too much because there was no possibility of dehydration.  I thought it was warmer than that…
What I learned from this:  I learned that I still hate climbing.  And watch out for the deer in these types of areas.  They don't look both ways before crossing the street.
T2
T2 Time: 00:00:56
This transition was pretty good.  Three seconds slower than my last race, but I also almost forgot to take off my helmet.  I kept my race number clipped again so I could just grab it and throw it over my head.  I didn't lap my watch for the transition though, so as I started the run I made sure to hit the button twice since I realized I forgot.
What I learned from this:  I have Transition 2 pretty much down pat.  I just need to remember to lap after the bike.
The Run (5k)
Run Time: 00:24:20
I set a new PR on this run.  It started out with going down some long steps before making a right turn.  It was a circuit of two laps instead of one large loop.  There was a small incline as you came up to the paved road which led to an unpaved service road on the edge of the park.  My legs were feeling pretty good and I wasn't worried about cramps too much on this run.  The unpaved area was dirt-and-rocks and quite uneven in places.  I ran on the grass on the side of the road to start because it was way too uncomfortable to run on the rocky surface.  I walked a couple times just to lower my heart rate again since my watch said I was in zone 5.7-5.9 a lot.  One guy who passed me encouraged me to pick up the pace, "I said, don't worry, I will in a minute," which I did.  About halfway through the service road was a precarious downhill that was a bit staggered and very uneven.  In the section by the lake, it appeared someone up ahead was getting sick.  I'm glad it wasn't me this time.  On the second lap I was feeling pretty strong and paced with one of the collegiate racers on the service road til I picked it up knowing the finish was coming.  They put the finish line on the sand of the beach and as I saw the finish I tried to sprint hard, but once I hit the sand I started to lose footing and just took it easy for those last 30 feet so I didn't faceplant on the beach.
What I learned from this: Beets may actually have a permanent place in my future pre-race nutrition plan.  In the two races I've done after having them with dinner, I haven't had much or any problem with cramps.
Post-Race and Other Thoughts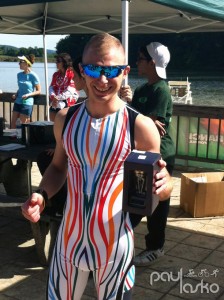 I hung out at our tri club tent after the race and snacked on some donut holes and water.  I was pretty exhausted.  I also talked to the race director to see if he remembered me from when I was next-to-last out of the water on my first race which he directed – the Doc & Sok Sprint Triathlon – and he did, which was nice.  In my post-race stupor I think I forgot to actually introduce myself by name.  After Daryl, a fellow tri club member who made this his second triathlon ever, disappeared for a moment, he came back saying he got first place in the clydesdale category.  I hadn't realize they posted the results so I went and checked them out for myself.  Well, it turns out that I also got first place in my age group, albeit by default.  It would have been nice to know how I stacked up against others in my age group after seeing how well I had done on the swim.  After that I got my stuff out of transition and brought it to the tent to wait for the awards ceremonies.  While that was going on, I also got approached by another person who recognized me.  It turned out to be the lifeguard, named Greg if I remember correctly (I'm going to kick myself for not remembering this), whose paddleboard I hung onto for the swim at my first race.  I finally got a chance to thank him for helping me get through the first part of that race.  When race director Joe Patanella started the age group awards and called me up for M20-24, he added that "weeks ago [I] was hanging onto lifeguards and now [I'm] winning first place."  That gave me a good laugh.  Afterwards we packed up the club tent and headed on home.
Late in the afternoon and early evening, something wasn't going right.  I started getting a scratchy throat and then as the Giants game came on, I started to feel odd and my body temperature was slowly rising.  I went out to dinner with my brother and by the time I got home, I had a 102 degree fever and was going between feeling extremely hot and having the chills.  The next day I ended up going to work, and afterwards I went to the doctor.  It was a two hour visit that ended up with a confirmed strep infection.  I've been spending the rest of this week so far fighting it off.  I'm glad I caught it early.  I just hope I didn't get anybody else sick.  Instead of worrying about doing the Hightstown Triathlon this coming weekend, I decided to call this my last race of the season and focus on getting better.
Results
Place: 49
Out Of: 120
Bib#: 117
First Name: PAUL
Last Name: LASKO
Gender: M
Age: 24
State: NJ
Guntime: 1:37:07
ChipTime: 1:37:07
Ageplc: 1
Agefin: 1
Div: M20-24
Winning Time for Your Division: 1:37:07
Genplc: 43
Genfin: 83
.25MISWIM
Plc: 44
Time: 8:38
Pace: 34:31
Tran 1: 2:41
17mibike
Plc: 62
Time: 1:00:34
Pace: 16.8
Tran 2: 0:56
5krun
Plc: 50
Time: 24:20
Pace: 7:51
Photos courtesy Darren F.  Official race photos not yet available at the time of publishing.  More to come later.