Well, that's exaggerating it a bit.  Sure, it's a little over 50 degrees Fahrenheit right now, but it feels way colder than it should be for the end of the summer.  Typically, we don't see temperatures this low until the beginning of October.  I'm really surprised how cool it's been in the mornings the past couple or so days.
The race I'm doing this weekend is a half-mile swim – a bit longer than the sprints I've done in the past.  If Google is right, a half mile is just over 800 meters.  Usually sprint swims are 500 meters.  I haven't trained over that distance really so I'm not sure what to expect for the swim this weekend.  Thank the triathlon gods for wetsuits – I'm going to be very happy to wear it on Sunday.  The water temperature is looking like it will be in the upper 60's, but below 70.  That's pretty intimidating especially for a swim that's longer than what I'm used to.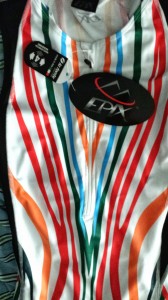 I have a new tri suit from Epix Gear – the Technocolor suit – to race in this weekend.  I did a test brick (bike\run) to see how the fit is and if there'd be any problem spots and it does seem a bit longer in the torso than my 2XU suits.  It causes the neck to be a bit loose and catch some wind on the bike.  It lacks any silicone on the leg grippers (they claim for comfort – if you ask me, I'm comfortable when the legs aren't riding up).  The material is comfortable at least, but they really need to work on the fit.  I'm only 5'5″ 115lbs and had high hopes for this suit based on their sizing charts.  I was a bit disappointed to see how long it was.  If I had any say in future incarnations of this suit, I'd shorten the legs an inch, add silicone grippers, and take an inch or two off the trunk so that the neck line sits closer.  If I can have it modified a bit I'll do that, but with only 3 more races in the year I won't worry too much right now.  I also finally got some Tifosi Podium XC shades since my usual sunglasses fog up too much.
Tomorrow afternoon I'll head up to where the packet pickup is and get my stuff, then take care of some errands and start race prep.  This is going to be interesting.