Updated 7/21/13 – Results Finalized, Addendum at bottom
---
Pre-Race
I went down to today's race with Darren, my tri club's president, since my truck is still in the shop for repairs.  We got there with plenty of time before the race.  I had at least an hour to get Transition set up and I pondered the idea of locking my shoes into the pedals and starting the bike segment like that to save time.  I decided against it and left them unmounted.  After I finished setting up I went down to the Swim Start and did a few minutes of practice to get used to the water and listen to the pre-race meeting.  Just before the swim, Darren gave me a quick pep talk and at 7:23AM the first wave of Elites and NJ First Responders went out.  As you can see on my arms, NJ State Tri used TRI-TATs for the majority of body marking.
The Swim (500m)
Swim Time: 14m 11.9s
I was pretty nervous leading up to the swim despite having gotten into the 90 degree water (yes, it was that hot!) to practice for a few minutes.  I looked back before the 10 second countdown to make sure my parents, who were there on the sidelines, could see me take off.  The announcer had the whole crowd do the countdown which was pretty neat.  There were only two fundamental problems with the swim start for me.  The first was that I almost forgot to clip my nose, and the second was that I forgot to start my watch until about 150m in.  I made the same mistake last race too.
The best part about this swim is that I didn't panic.  For not having really done any training the past two weeks due to food poisoning I did very well.  I was exhausted and was on my back a lot, but I somehow managed to pull through a decent time.  I really don't understand how I did that well when I felt like I didn't have much strength through the pull phase of the stroke.  I was on my back a lot to catch my breath.  But hey, I'll take it.  It sure beats the 28 minutes I did in my first race.  I was happy getting out of the water that I at least remembered to hit the Lap button on my watch to switch to T1.
What I learned from this:  Don't worry about the crowd behind you.  Get yourself all set and be ready to start your watch on time when the countdown reaches 0.
Transition 1 (Swim to Bike)
T1 Time: 4m 13.5s
I was a bit slow getting out of the water but brought myself up to a slow jog to the transition area.  I had the second rack near the Bike In, but it was basically on the opposite side of the Transition Area from the Swim Out.  Luckily I knew exactly where it was and didn't waste any time being lost.  First thing I did briefly was step into my pre-filled pan of water to get the sand and grass off my feet and took a towel to do a quick dry.  I was pretty fast in getting my sunglasses and helmet, and then my my socks and shoes.  After getting my socks and bike shoes on, I had to make sure my cleats didn't slip on the asphalt while moving out, but I then went as fast as I could on the grassy area to get to the Bike Mount.  Most of my transition time I'm sure was getting to the timing mats.  I probably could have saved some time and gone sockless, but I don't have the equipment for that yet.  I actually felt inside my shoes before the race to see if it was possible and the mesh vents just seemed too abrasive.  I didn't want to worry about Body Glide since I've never tried it yet either.
What I learned from this:  Either work on getting some equipment that can help make transitions faster or practice with the Body Glide you already have before a race so you know what to expect.
Bike (10.1 mile)
Bike Time: 30m 53.7s
Again, my legs were heavy on the bike and I felt cramps at times in different places of my legs.  Despite the calf compression I used to try to stave them off, they were definitely weak.  I had been eating bananas for the past 3 days so maybe it was something else, or I need to get used to going from swim kicking to using my legs on the bike with some more training.  There were times I slowed down pretty significantly because I felt like I couldn't get my legs to fire.  Also, I felt like I was having trouble stomaching all the HEED that I was drinking to try to get myself hydrated better.  That caused me to slow down a bit too because I was afraid a couple times that I might vomit.  It was probably all in my head though and I never did.
There were a lot of officials on the course and I was afraid at one point I was getting written up for my top tube number flapping a bit since they weren't rigid cards.  I'm not sure that would be reflected in the preliminary results so I guess I'll find out later.  After the race people told me to not worry about it.
The course itself was a little different from the practice ride I did a couple weeks ago with some tri club members.  I thought there would be a section that went through Mercer County Community College with a turnaround at a combination cul-de-sac\roundabout but that wasn't in there.  I guess the race course was a bit shorter than what I rode before.  At the end I didn't have any problems with the dismount and went as fast as I could to get to T2.
What I learned from this: Bricks, bricks, bricks.  Do them more often to get the legs used to needing to work after already being worked, or practice less kicking in the pool.  Also, strength training is a must in order to make both of these things possible – something I haven't been doing much of, if at all.
Transition 2 (Bike to Run)
T2 Time: 1m 47.5s
You know, eventually I'm going to stop having to tell people what each part of the race is.  Everyone should know by now. 😉  Anyways, I didn't waste any time in Transition.  My rack was on the close side of the Transition Area this time and I was able to quickly find my rack, get the bike mounted, and switch to my running shoes.  The jog to the Run Out was a bit painful though because I could feel my calves seizing up.  They weren't as painful as my last race but they still slowed me down for a while.
What I learned from this: Try to make sure you're properly fueled before the race so you don't seize up at crucial points.  Suggestions are welcome in the comments below!
Run (5K/3.1mi)
Run Time: 27m 18.4s
The run was pretty painful.  My stomach wasn't cooperating, my muscles weren't cooperating, and about a quarter of the way through I started to develop a hotspot on my left foot which kept me from picking up my pace.  There were a lot of aid stations and I kept drinking water even though I probably shouldn't have.  I used some of it to pour on myself at each one.  I also went through this water mister they had after the turnaround which was refreshing, although I underestimated how much water it put out and felt some of it run into my shoes.  I figured my run couldn't get any worse.  At that point though I felt like I could have pushed a bit harder, but the hotspot which almost turned out to be an inch long blister kept me from pushing in an effort to prevent it completely forming.  As I was a half mile away I tried to sprint a bit past some people including someone in my age group but as I was getting towards the Finish line, he passed me since I booked it a bit too early.  I also started to feel a bit weird like my sweat was suddenly stopping and a slight lightheadedness.
What I learned from this: Despite having the midweight WrightSocks with me, I wore my black cycling socks for the race and probably should not have.  I tried to order two pairs of CoolMesh II from their site on Monday but something was wrong and my orders failed to process 4 times.  Despite that, I should have just gone with what I had.
Finishing Time: 1hr 18m 25s
AG Place: 29/42
Men Place: 331/618
Overall Place: 464

Post-Race
After I finished I had plenty of time to cheer other people on by the finish line.  I never realized how many good looking ladies are out there in triathlon.  Maybe I should get a custom tri suit that says "Hey Ladies, I'm single!" with my phone number.  😀
I got my stuff from the transition area after most of our club members came through and then cheered the last couple on.  There was a small barbecue at our Tri Club tent consisting of veggie, turkey, and regular beef burgers.  There were snacks, cookies, water, and all sorts of stuff.  I didn't eat much besides a turkey and a veggie burger and one small cookie.  My stomach just didn't feel up to it.
One small disappointment afterwards.  When I got my results at the tent there was no information about how I did amongst the First Responders group.  I figured there were going to be separate statistics for that specialty division but instead it only showed the age group-related stuff.  It turns out there were no place awards for NJ First Responders, only a best overall first responder.  I was hoping I would have placed among that group but I guess I will never know.
At least I took 20 minutes off my time from my last race and I finished successfully, even though I wish my performance was a bit better.  It's time to start picking up my strength training and getting myself a bit more fit to race.  I have a few other pieces of constructive criticism that I'll withhold and if they ask for feedback from racers I'll share it with them.
Overall, this is definitely a race I'd do again and I'll be looking forward to next year's.
Preliminary Results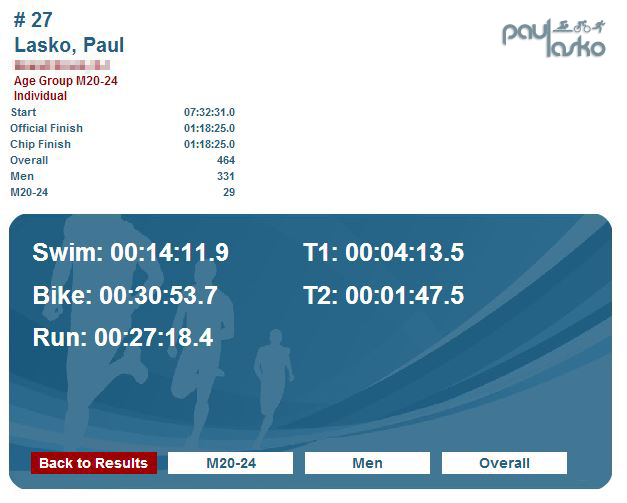 Final Results
Time: 1:18:25
Swim: 14:12
T1: 4:13
Bike: 30:54
T2: 1:47
Run: 27:18
Overall place: 490 out of 1176
Division place: 29
Gender place: 352
Addendum:
Things I forgot to tell you in the initial writeup:
I started the swim in the back of the group which may have played a part in keeping the panic away.

I must have pulled a muscle in the right side of my back at some point during the swim, because it was bothering me during the bike and for the rest of the day.
Hopefully I didn't forget much else.