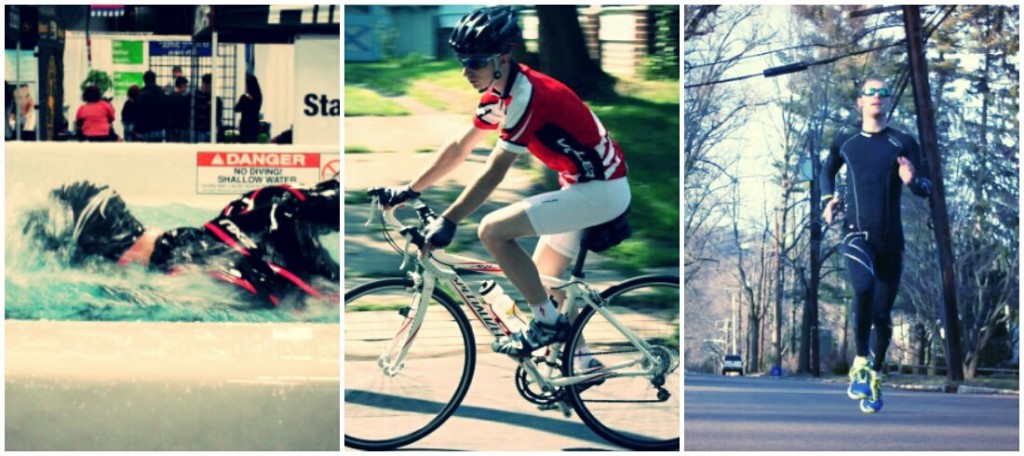 I am an aspiring triathlete.  That changes in 6 days when I am able to call myself a newbie triathlete at the Doc & Sok Triathlon this coming Sunday.  (The countdown is on the homepage!)  I'm excited, scared, and just realized I still don't have a race belt for the run.  I got a little preview of the bike portion of the race this weekend when on Sunday, one week until race day, I rode it with a few local athletes, one of whom is also doing the race next weekend.  That's one of the best things I think about local races, is that you get a bit of a home-field advantage since not only might you know the local roads, but you can see how the course will feel close to race day without all the pressure.
It's a pretty technical course.  There aren't too many sharp turns at least.  It's hilly from the start, and there is currently construction on the main road where the start\finish line is intended to be.  Belgian block curbing is being installed, the road is cut up and filled, probably from recent pipe work before the road gets resurfaced, and it is lined with orange traffic barrels.  Hopefully those will be moved on race day a bit so give the riders some more room between the shoulder and traffic, which is expected to exist due to the open course.
Along with some of the hills are a couple extended climbs of moderate grade, but nothing too crazy.  I was comfortable with them in the second biggest gear on the cassette with a good spin.  The small disadvantage to these climbs is that you do not immediately lose all the gained elevation.  There are a couple fast descents.  My max speed was 33mph, and that got a bit scary one time since, with my new brake pads, my rear wheel briefly skidded a couple times.  Hopefully I get a chance to break them in a bit more before race day.
It was a pretty short bike course, just under 10 miles.  Even if we didn't ride the exact course, it was at least good to see how most of the roads are – their grades, surface conditions, and anything else that might affect race performance.  One asked the question which served as the title of this post.  I chuckled and said, "I've been tapering since I started training," explaining about how busy it's been with the fire department and the back injury that someone caused me which killed a month of my training.
After our ride, a couple of us went to a local Kings supermarket and got a snack and some drinks.  I found some good berry-nut trail mix and got a strawberry banana protein smoothie for a recovery drink.  They said I'm probably going to do very well in the race.  I certainly hope they're right.  One of the ladies was surprised at my abilities on the hills.  Luckily I have some inclines to train on nearby and my experience on the Philadelphia LIVESTRONG Challenge course has helped me optimize my shifting.  I'm still not 100% sure about the swim or the run, but we'll just have to see what happens on race day.  I'm going to stay optimistic, keep my training light this week, and try to avoid stress and injury so that I'm in as good a condition, both physically and mentally, as I can be for this weekend's race.  I will post a race report of course and let you know my results and how I felt.  Keep your eyes peeled!
Discussion Starter: What do you like best about local races?  Any pros\cons to local races compared to destination races?  Post your answers in the comments below!