Sports drink powders always intimidated me a bit because I was never really convinced that they had the same effectiveness as their already-mixed counterparts. I'm not trying to compare too much to other brands since I don't have any recent experience with sports drink powders besides the Heed melon flavor that I tried today on a bike ride. I needed something to take with me for energy and since we did not have any Gatorade, I figured I would finally start using the free products that they included with my recent Hammer Nutrition order. I guess for safety's sake I'll make that disclaimer that this was a free product included in my order – it was not sent to me specifically for review and I haven't been compensated by Hammer Nutrition in any other way for this review.
On the Outside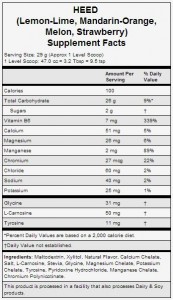 The packaging for Hammer Nutrition products is pretty standard and it's very clear as to what you're using with the help of large lettering on the front of the package. I can understand diversity in appearance for products to prevent confusion, but I can't knock Hammer for standardizing the label because the product name is the largest most obnoxious thing on the package. It's impossible to confuse a single serving of Heed with a single serving of another product like Recoverite or Perpetuem. The back of the package contains the expected Nutrition Facts which are on the right (from Hammer Nutrition's website).
You'll notice an interestingly low amount of sugar listed on the label. Xylitol, which is a nonfermentable sugar alcohol, is used to flavor Heed as well as natural flavors. In this case, that would be melon flavor. I'm not sure which melon, but to me it tasted mostly like cantaloupe which was a refreshing difference.
On the Inside
There's not much to describing Heed. It is a white powder, containing no dyes or other crazy artificial things. I poured it, quite hastily, into my 24oz water bottle that was already 3/4 full, and shaken like James Bond's vodka martini to get it dissolved as much as possible. It seemed mostly dissolved after a few seconds but I noticed some particles still in there that I was sure would settle over time. Not much of a big problem in my opinion. It was very easy to mix.
Product in Practice – The Taste
Before heading out on the bike, I tasted a bit beforehand and was pleasantly surprised by the taste. It was neither sugary nor overpowering like other popular sports drinks I've taken on bike rides. I took it with me as my primary drink on an hour-and-twenty-minute bike ride for which I went 20.66 miles according to the ol' Garmin watch. I made sure to pace my intake properly and by the time I got home there was just an ounce or two left in the bottle. It was good! Melon flavor is something new in a sports drink for me and it was a welcomed change. My pace only slowed down a bit when my legs needed a break from my moderate pace, but I never ran out of energy and was able to pick right back up without a problem. I think the Heed did its job keeping my thirst quenched and my energy levels where needed. I did not use any other supplements on the ride and never touched the plain old water I also had with me in my other bottle.
The Bottom Line
Hammer Nutrition's melon-flavored Heed is a really neat energy drink powder that actually tastes like it says it will. It is not overwhelmingly sweet and will not make your saliva thicken up with sugar since it uses Xylitol as its primary sweetener. You can find Heed on Hammer Nutrition's website in multiple serving options including Single Serving ($1.95 per packet), 32-Serving tub ($28.95), and 80-Serving tub ($54.95) making it pretty affordable. It is a much healthier and tastier alternative to other popular sports drinks.
I'm going to give this one 5/5 for its good taste, ease of mixing, and good performance (and it didn't upset my stomach, which is sensitive at times).