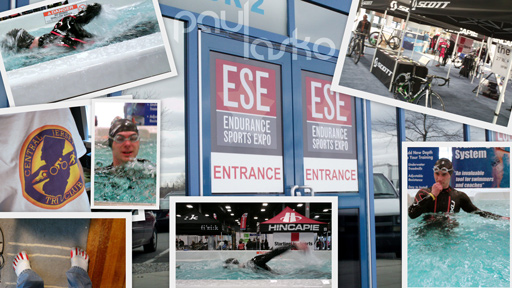 On the weekend of March 2nd and 3rd, 2013, I attended the NY Metro Endurance Sports Expo.  Held locally in Edison, NJ, it was easily accessible to many people in the state via the Garden State Parkway or I-287.  Many vendors were on hand to show off what they had, and there were a few activities here and there.  However, it left much to be desired.
For such a large venue, the vendor list was somewhat short.  A few of the vendors also had nothing to do with sports (such as the guys selling house roofing\siding, a payment system company, and Verizon) and some of the vendor reps seemed to be missing.  I attended both days of the event.  Sadly I didn't get a lot of pictures, and I couldn't get any that gave an idea of the space because of how it was laid out.  Fabric walls made that a bit difficult.
On Saturday, I arrived a bit later in the afternoon.  I spoke with some familiar faces from a local sporting goods store, called Efingers Sporting Goods.  They're located in Bound Brook, NJ and you should check them out.  They deal Fuji, Giant, and Kestrel bikes.  [highlight color=yellow](Noob tip: Please avoid those big-box stores when considering a bike purchase!  Support your local bike shops.)[/highlight]  The bike guys there are very friendly and helpful.  Cervelo was there but they were kind of tucked away in a corner and I think I missed them.  Sadly I didn't get the chance to talk to their brand rep.  I talked to Greg from Milano Sport and got some information from him on the tires that he has available as a distributor at some local bike shops.   Here and there were a couple major apparel brands such as Hincapie Sports and Sommerville Sports.  Retul had a table but nobody seemed to be there and the space was empty on Saturday.  Luckily I met up with a few people from the Central Jersey Tri Club that I just joined in January, so I wasn't there alone the whole time.
Highlights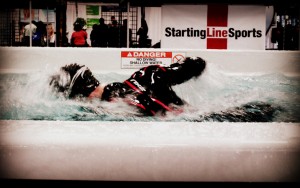 My main highlight of the weekend was going on Sunday to try out my 2XU T:3 wetsuit in the Endless Pool.  I wasn't able to get the underwater camera video from the reps but I did lend my camera to one of them for photos and videos, so I did come away with something to watch.  I was in there for the better part of an hour in the 83 degree water, which didn't seem too good to try a wetsuit in since when I got out, the water running out of the suit down my ankles felt like it could have been boiling me.  I did notice that I was a bit dehydrated, but getting used to the range of motion in the arms was worth it.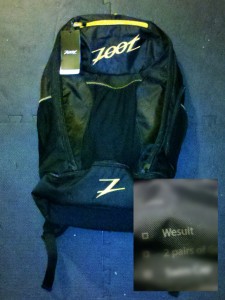 At the High Road Cycles tent, they were selling a whole variety of things at various discounts.  I got a Zoot Performance Transition Bag for a little over 50 bucks.  I favored the Zoot over some other brands because of the checklist inside the bag.  I'm not sure you can write on it with a marker, but a pencil might work.  The only flaw I can see so far is a small typo on the checklist, but I think it'll be a good gear holder.  After a while I'll do a review of it.
Also, I found a neat vendor that had those magical exothermic reaction heat pads.  When I saw those I thought of my parents who could sometimes use something like that for when they have a muscle issue or just to keep warm at outdoor sports events.  So I got a rectangular one in green for them.  The gentleman gave me $5 off which was nice.
Where I think they could have improved
Expos are a great way for major brands to get out there and show off what they have, especially early in the year when their new products are coming out.  When you go to a home improvement expo, you're sure to see things in all aspects of home improvement from plumbing to appliances to siding and paint.  You could go to a cycling expo and see all the new bikes, or a running expo and see all the new shoes and treadmills, or a swimming expo to see all the new swimming gear, pools, and hot tubs.  When coming to the Endurance Sports Expo, I was hoping to see not only some major brands in accessories for swimming\biking\running, but some triathlon-specific brands as well since it's kind of geared towards that.  There were very few, if any, triathlon-specific brands.  There were no tents for any of the triathlon brands like Zoot, BlueSeventy, 2XU, Orca, Skins, or Profile Design.  Some of these brands could be seen in some of the store vendors, but they were blowing out old stock mostly.  Luckily Garmin was there to show off their GPS watch tech.  Fizik/Continental/Brooks did not seem to have anybody around to talk to.  It would have also been nice to see some other tri bikes from the big names as well as Quintana Roo.  I'm guessing reps are hard to come by in this area for a lot of these brands.  For my first multisport expo, I wish there were some bigger and better attractions.
On March 16 there is another expo in the NYC Metro area called Tri-Mania NYC at Columbia University.  The tri club is trying to get a group of people to go together via train.  This event even has an indoor triathlon event that I'd like to participate in so we'll see how those plans work out.  There's prizes at stake so I'm willing to give it a shot.  I'm hoping I'll get to see some interesting stuff over there and have a good time.  I'll make sure to take more pictures too.